ABOUT HOTEL
If you are looking for a very good quality accommodation not so expensive not long way from the centre of Prague then her is invitation for you. Welcome at the Hotel Olga ***. Wheter your stay in Prague is for business or pleasure, we would be delighted to accommodate you. We guarantee you will enjoy your stay.
The hotel Olga *** is situated at the fine and quiet spot near to the centre of Prague, national Gallery, river Vltava and 100 metres from exhibition centre Holesovice.
All rooms have the same standard of comfort.

The hotel provides 80 beds in single, double, triple rooms and multiple rooms. Each room has own facilities- shower and WC, LCD TV, direct –dial telefone. All rooms offer guests enough calm for quality rest and relaxation.

At the reception there you can buy drinks, hygienic goods or souvenirs or order some of the offered sightseeing tours, excursion, transpotration etc. Our staff will take care of your accommodation and will willingly provide you with information and advice about the history, culture, attractions, sports facilities, shopping or relaxation in Prague and will get you bus tickets for MHD (the integrated city transport network). Reception has now limited opening hours.
Check-ins after 7 p.m. are accommodated online, please call +420 220 878 020.
Rich buffet breakfasts are served from 7:30 till 10:00.
CHECK-IN is from 14:00.
CHECK-OUT till 10:00.
Hotel Olga *** is non-smoking hotel.

PARKING
Parking is possible near the hotel for a price 180 CZK per night, more information you can find HERE: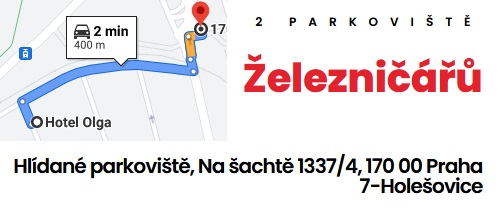 INTERNET CONNECTION
In all rooms and public areas you can be connected to the internet with free Wi-Fi.

HOTEL DIRECTOR
Ing. Pavel Kuchár
Hotel Olga ***
Janovského 50
170 00 Praha 7

IČ: 70757691

tel.: +420 775 246 338