WEATHER IN PRAGUE
PARKING
Parking is possible near the hotel for a price 180 CZK per night, more information you can find HERE: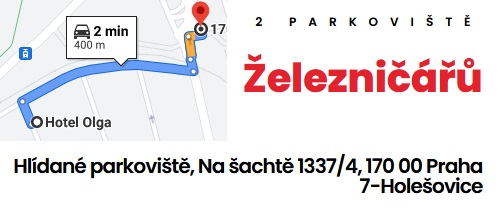 HOTEL SURROUNDINGS
Prague Exhibition Grounds (Výstaviště Praha)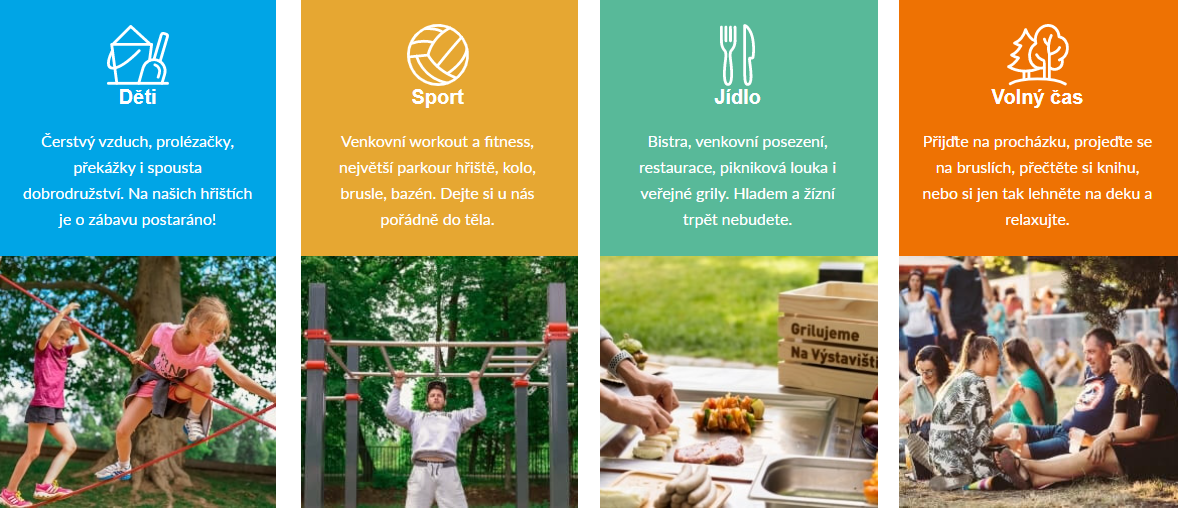 The Prague Exhibition Grounds is a multifunctional space with a long tradition. It covers an area of ​​36 hectares and is dominated by the Art Nouveau Industrial Palace. Due to its considerable interior and exterior possibilities, it is a great and sought-after opportunity for organizing a number of cultural, social and entertainment events throughout the year. The Metronome music festival, 90´s Explosion, Signal festival, Prague Harley Days, Legends, Prague Ice Cream Festival and other social events take place here. Thanks to its location near the center and parking facilities, the Exhibition Center is very well accessible by public transport.
In the lower part of the complex you can find a public barbecue, a rope playground for children, a sandpit, a bike park for smaller children, a workout and fitness and a newly opened parkour playground. For athletes, we also have lockers, several drinking fountains, outdoor showers, a stand for inflating a bike or scooter. For this year 2021 we are also preparing a new Skate reptile and skate park in Křižík's pavilion C.
You can refresh yourself in one of the bistros - the Italian Bistro Artyčok, which bakes homemade pizza, has draft beer Svijany, draft ice cream and a children's playground nearby. A little below you will find the stylish Bistro NO.2, which will prepare fresh sandwiches, burgers, salads and sweet and savory appetizers. Or, after a swim, have a traditional hot dog in a coffee in the pool.
At 7 different sports venues, you can choose exactly the type of movement you feel like. Badminton, swimming, skating, workout or anything else. Visit our Swimming Pool, try climbing on one of the most modern boulder walls and in the winter season you can use public skating in the Small Sports Hall.
At the Exhibition Grounds you will also find the Lapidary of the National Museum, Marold's Panorama of the Battle of Lipany and the Sea World Aquarium. In the immediate vicinity of the Exhibition Grounds, on the west side, there is a large Stromovka Park and the Prague Planetarium.
FOR CHILDREN

Rope playground, bicycle park, the largest sandpit in Prague…. Large outdoor area where children and adults enjoy. Cars do not pass through the area, you can teach your children safely on a bike, on skates or just let them run freely. Maybe you'd better take a blanket and play a family game. Or sit with friends while the children play and order your favorite drink.
ROYAL GAME RESERVE – STROMOVKA
A large green oasis in the middle of town with mature trees, water and grassy areas with the possibility of organizing picnics, walks and relaxation for everyone, regardless of age. It originated in the 13th century as a game reserve. The whole area, a sort of Prague Central Park, is interwoven with many playgrounds and a network of roads and trails that are used for recreation.
TRADE FAIR PALACE

About building
Formerly intended for trade fairs, this gem of Czech Functionalist architecture has been the seat of the National Gallery Prague from 1976. Built in 1925⁠–⁠1928 after the plans of architects Josef Fuchs and Oldřich Tyl, the imposing building was the largest edifice of its kind in the world. First it served the Prague Sample Trade Fairs company and, after the war, it housed various foreign trade companies. The history of the building was dramatically affected on August 14, 1974, when it was nearly destroyed by a huge fire that took six days (until August 20) before being quenched. In 1976, a decision was made to renovate the building; the reconstruction progressed slowly and was finally completed in the 1990s.

Exhibitions
The National Gallery Prague hosts exhibitions in seven buildings in the city centre. Our yearlong exhibition programme presents a vast variety of subjects and personalities, covering not only the Czech art scene, but also striving to introduce crucial aspects of Central European, European and world art to the Czech audience.
The recent exhibitions our visitors enjoyed the most comprised those of French Impressionism, Ai Weiwei, Alberto Giacometti and Katharina Grosse.
STROMOVKA CENTER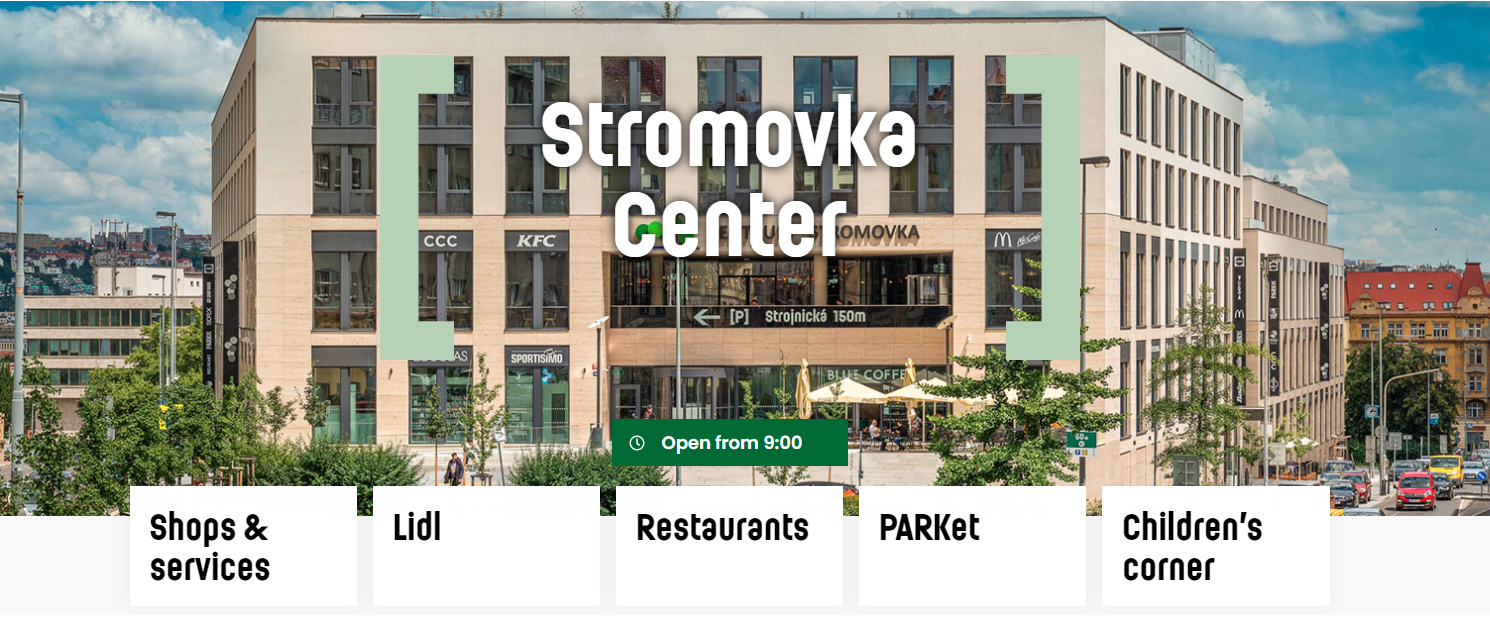 Stromovka Center is your neighbour from Letná where you can always find the shops and services you need. You don't have to leave work early anymore so you can do all of your shopping - you can find everything under one roof and open late.
Stromovka Center is a shopping, leisure and office centre in Prague 7. Across three floors you can choose from dozens of shops including a Lidl supermarket.

Covering half of the second floor, The PARKet is a place you won't find in any other shopping mall. Here we'll satisfy your taste buds in unique bistro concepts, tasty restaurants or well known and loved fast food restaurants.

Parking is always on our mind, including spaces for our neighbours in Letná or for commuters. Stromovka Center offers a three-storey underground parking with up to 500 parking spots for our customers, with 150 spots reserved for residents who can park here overnight.
TIPSPORT ARENA

Tipsport Arena is a multi-purpose indoor arena in Prague, Czech Republic, whose naming rights are currently leased to Czech betting company Tipsport. The arena, located on the fairgrounds in the neighbourhood of Holešovice, opened in 1962 as Sportovní hala and has a capacity of 13,150 for ice hockey games. Until 2015, it was the home arena of Czech Extraliga team HC Sparta Praha and between 2012 and 2014 KHL's team HC Lev Praha.